The Donor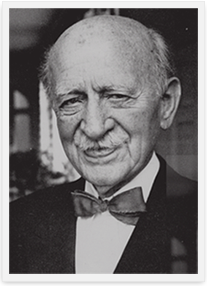 Axel Ivar Bonde Adler , later Adlerbert, was born in 1878 and died in 1966. Axel was the oldest of five siblings. He studied at Göteborgs privata gymnasium and in 1893, he was employed as a clerk at the family's dairy company. The company grew rapidly and included many dairies and milk stores. Axel Adler became a director of the company when he was 24 years old but subsequently resigned from his position and travelled around Europe. He returned to Sweden and trained as an agronomist at the Alnarp Agricultural Institute. It was there that he met his future wife Rut. In 1909, they settled at Ekered, a farm in Dvärred in Lindome. The couple developed the farm into an 'ideas centre' and an informal adult education college.
In 1910, Axel Adler once again became director of the family company. He bought out his siblings and expanded the company, buying more dairies, milk stores and a steam bakery. He then combined all operations under the company name Arla, which acquired a monopoly on milk distribution in the Gothenburg area.
Adler opted to carry on studying at Gothenburg School of Business and he graduated in 1929. Later in life, he was awarded an honorary doctorate from the Gothenburg School of Business.
In 1935, Adler sold his company to Lantbrukarnas Mjölkcentral and invested the proceeds in, among other things, Rederi AB Transatlantic and Göteborgs Handelsbank.
Axel Adler admired the social democrat finance minister and ideologist Ernst Wigforss. It was his ideas that inspired Adler to donate money and shares, which led to the formation of the six foundations. The name Adlerbert had existed in the family in the past and Axel Adler changed his surname late in life.
The primary purpose of the Adlerbertska Foundations is to support education and research in Gothenburg.